Connect With Your Consumers On Instagram With Engaging Content

By Amber Smith, Marist College Intern
Developing An Effective Instagram Marketing Strategy
As of December 2014, the recorded number of Instagram active users per month was 300 million.  Believe it or not, this exceeds the active monthly users of Twitter which were recorded at 284 million. Instagram is a platform where you can use strong visuals to expand your business.  If you are not a retailer that is selling a certain product that can be photographed why not showcase events or share eye-catching anecdotes?
Brand engagement on Instagram is on the rise. Between 2013 and 2014 the average engagement per post of branded content increased by 83%.  More brands are using the platform and people are becoming more responsive to brands in general. This article will share with you the strategies you need to build a strong and successful marketing strategy for your brand on Instagram.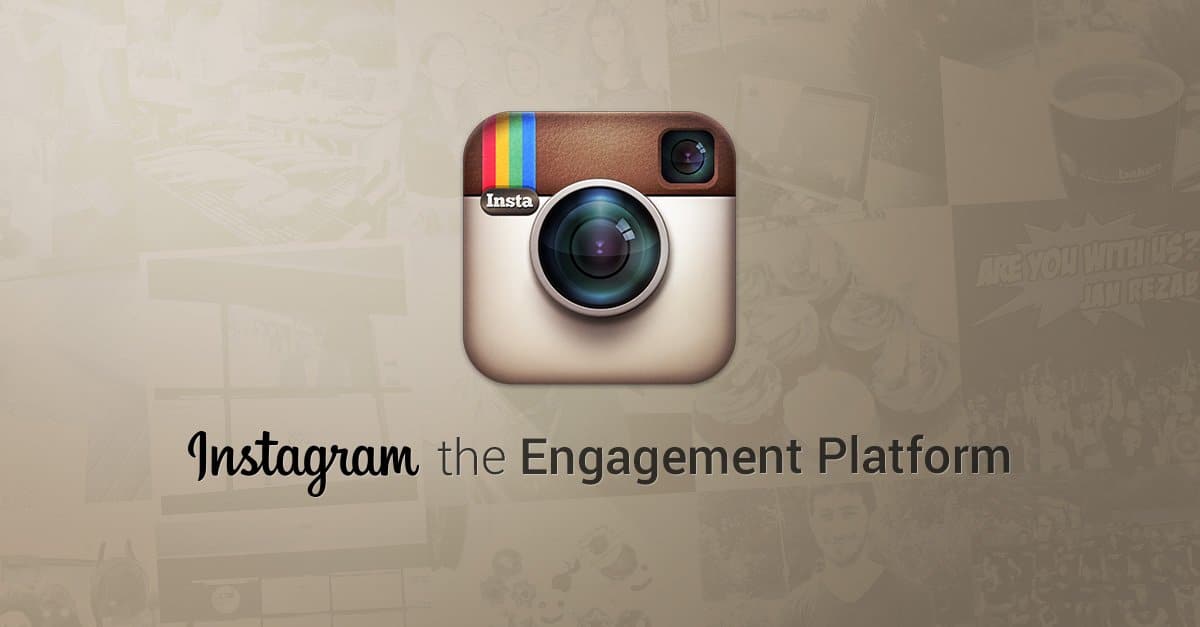 Every image you post on Instagram is going to be a reflection of your brand.  You cannot guarantee that every image will resonate with each member of your audience, however, you can ensure that all images are professional, high quality and attention-grabbing.
The quality of your content is often more important than quantity.
Don't stress about captioning your pictures, instead be sure to use #hashtags that are popular in your niche and relevant to your brand to garner interactions (Tags can be found using Webstagram or Top-Hashtags).  It has been proven that posts with higher interaction will stay popular and relevant longer than those without it.  Brands that use @-mentions and allow a location to be visible on posts will see higher engagement.  These are both great ways to interact with your consumers and foster business relationships.  It is wise to use a filter on Instagram posts.  Below is a graph that reports which filters garner the most engagement through likes and comments.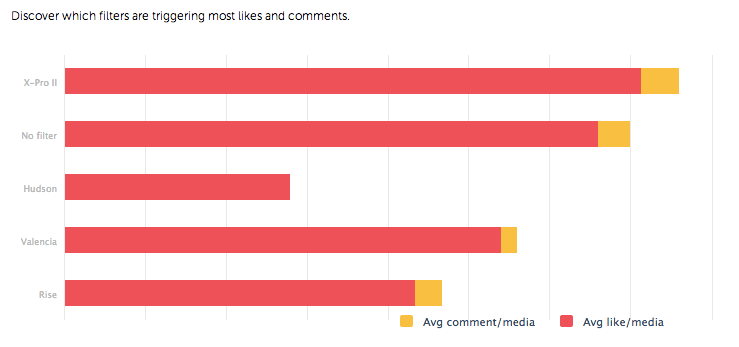 Most brands will post on Instagram at least once a week. About  30% of brands on the platform post 10-20 times per month.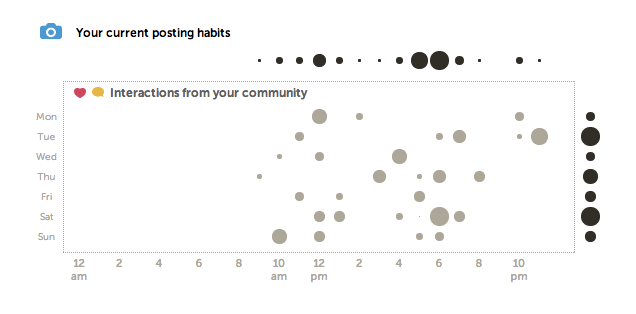 Posting your content at the right time is always key to successful interaction. 
IconoSquare is a free analytic tool for Instagram.  It's optimization section will allow you to see what is working for you and what is not.  The optimization tool gives you an analysis of your posting history vs. engagement. The larger gray dots on the graph indicate ideal times to post; these are the times when your audience is most interactive on Instagram
It may be easier to manage posts with the paid tool ScheduGram.  This tool will let you schedule your posts at times that will result in the highest rate of interaction.
Boost your following by utilizing sponsored posts and product reviews.
Optimizing your posts can only get you so far.  You must expand your brand's reach by seeking out the top Instagram accounts in your niche.  You may go about this by using Webstagram to search keywords and the most popular hashtags used in relation to your brand.  This tool will allow you to see the most popular accounts associated with those hashtags and keywords.  If the profile has a large following (20k-200k) and an email listed in the bio it usually means these accounts are up for sponsoring posts.  Depending the account's following posts will usually cost between $20-$50 to be shared on a popular page.  However, you may also consider sending these accounts your product to be reviewed and featured-this option is a bit less advertisement-related and ill usually result in higher engagement from consumers.
You may also be able to increase your following on Instagram by monitoring the accounts of your competition.  Follow their followers and engage with them through likes and comments.
To learn more check out these great articles on how to growth hack across social media platforms:
Facebook—Twitter—LinkedIn—Pinterest—Google Plus—YouTube
To learn more about digital media contact one of our experts today.
Sources:
Cohen, H. (September 5, 2012). "5 instagram tactics to increase social media engagement." Retrieved 6/4/15 from http://heidicohen.com/5-instagram-tactics-to-increase-social-media-engagement/
Lazazzera, R. ("How to build a massive following on instagram." Retreived 6/4/15 https://www.shopify.com/blog/14288561-how-to-build-a-massive-following-on-instagram
Roeder, L. (February 3, 2015). "Steal these strategies: Instagram marketing tactics from the world's top brands." Retrieved 6/4/15 from http://lkrsocialmedia.com/2015/02/steal-these-strategies-instagram-marketing-tactics-from-the-worlds-top-brands/
Photo(s) source: https://www.shopify.com/blog/14288561-how-to-build-a-massive-following-on-instagram
Summary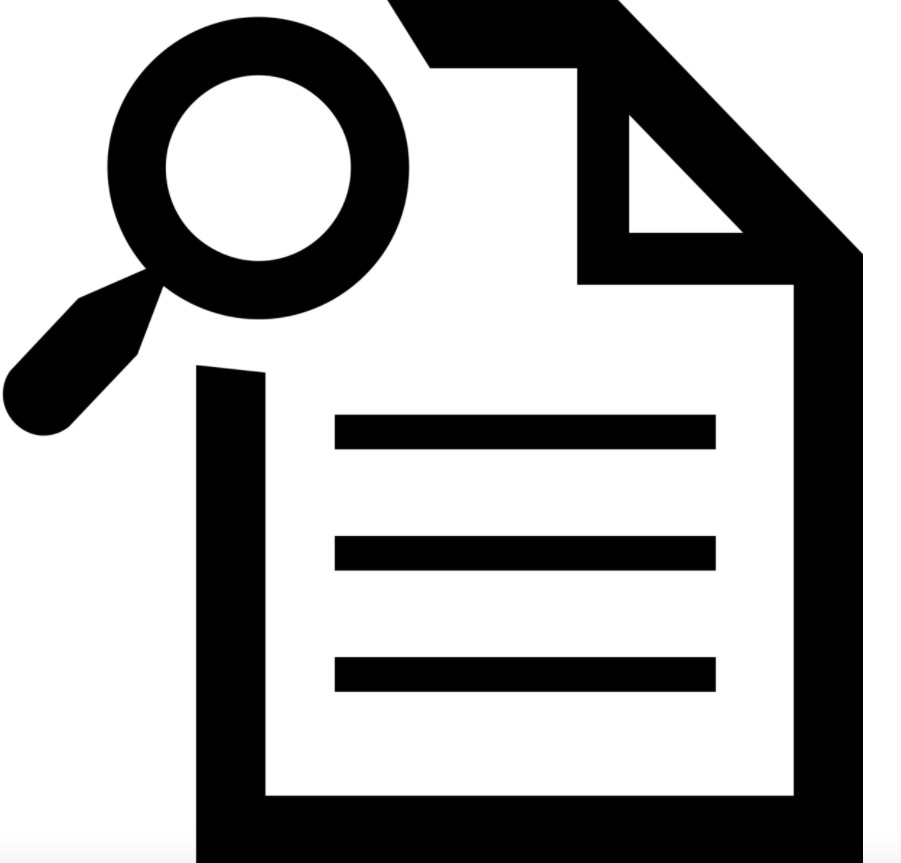 Service Type
Provider Name
Hudson Valley Public Relations
,
31 Mountain Lane
,
Beacon
,
NY
-
12508
,
Telephone No.845-202-7087
Area
Description
Content market campaigns are developed to create and place relevant, informative content that engages consumers in conversation. Content marketing places the right message in the right medium at effective levels of reach and frequency to excite, illuminate and move individuals to action.