Growth Hacking Tactics To Increase ROI
By Chris Largent, Marist College Intern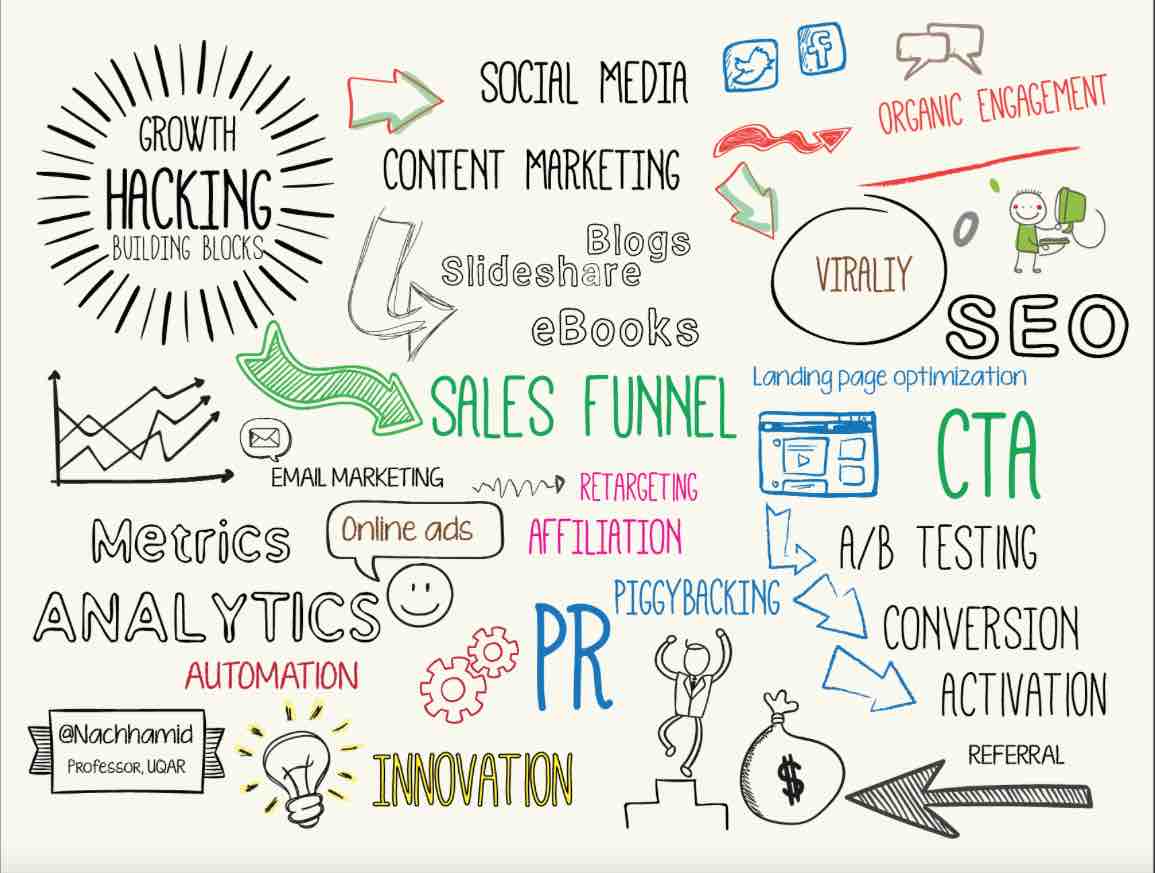 What Exactly Is Growth Hacking? Growth Hacking is a marketing technique that breaks the mold of traditional marketing. It utilizes the technology of today to promote one thing: the growth of your business. Growth Hacking combines creativity, SEO (optimization), social metrics and an analytical mindset. Growth Hacking can help to not only sell products but also to expand and engage your business within the market-place. Hacking is cost efficient, effectively skirting past the high-cost advertising techniques of traditional marketing.
Growth Hacking Tactics. Growth Hacking uses low-budget means to spread awareness of your business. Here are five easy Growth Hacking tactics that every business should use in order to grow its brand name and market awareness.
Number 1: Search Engine Optimization Make sure that your customers can find your website. When building a snippet use keywords to attract the attention of the potential visitor in both the headline and the meta-description. Be certain that the url is clear and readable so that the consumer knows exactly what they are clicking on (see article on permalinks).
Number 2: Blogs Create content that is intriguing to your customer and do not simply attempt to sell your product right then and there. The purpose of Growth Hacking is to subtly pull your visitors to your website. Becoming a salesman on a blog can force potential customers away. Instead, find creative ways to pull emotional strings within them. Follow the ebb and flow of trends and niches within society and find ways to relate them to your business (Patel & Taylor).
Number 3: Infographics Infographics are a quick and easy way to help your visitors visualize a topic of your choosing. A creative design can go a long way with infographics since, after all, catching the customers' eye is what Growth Hacking strives for. Choose a topic that may be controversial as well. For instance: you can display what makes your business stand out from the the rest of the industry. Distribution of these infographics is easy: link your infograph to your social media pages (Patel & Taylor).
Number 4: Social Media Sharing content on social media channels is easily and it's free! Posting and sharing your blog and infographics on these social media platforms (Facebook, Twitter, Pinterest, Tumblr, etc.) is an excellent way to amplify and extend the awareness and reach of your message, driving visitors back to your website. Remember, social works both ways. Interpersonal communication is key for leadership in the market (Patel & Taylor).
In order to receive awareness it is smart to spread awareness for others.
Comment on other posts and blogs.
Answer questions that customers may comment on your posts.
Number 5: Leverage Other People's Audiences (LOPA) Networking is always an essential part of business life. Find people and leaders within your community that already have an expansive audience. Create a mutual benefit system with them in hopes that they will share your story with their audience and grow your awareness (Patel & Taylor).
Since Growth Hacking works with such low-budget tactics it is easy to boost ROI. Throughout the use of these tactics it is vital to analyze success rates. This analytical approach can help to perpetuate a repeatable process that works for every individual business. Some examples of companies that used Growth Hacking successfully to expand awareness are: Facebook, Dropbox, YouTube and Instagram.
To learn more about Growth Hacking and what it can do for your business, contact us at hudsonvalleypublicrelations.com or give us a call at 845-202-7087.
Sources:
Patel, N., Taylor, B. (n.d.). The Definitive Guide to Growth Hacking. QuickSprout.
Ginn, A. (n.d.). What is Growth Hacking? Quora.
Summary

Service Type
Provider Name
Hudson Valley Public Relations
,
31 Mountain Lane
,
Beacon
,
NY
-
12508
,
Telephone No.845-202-7087
Area
Description
Growth Hacking subtly pulls people's emotional strings to move them to action. By following the ebb and flow of trends, messages can be creatively crafted and placed on channels that relate to your audience.