The World's New SuperHero for Water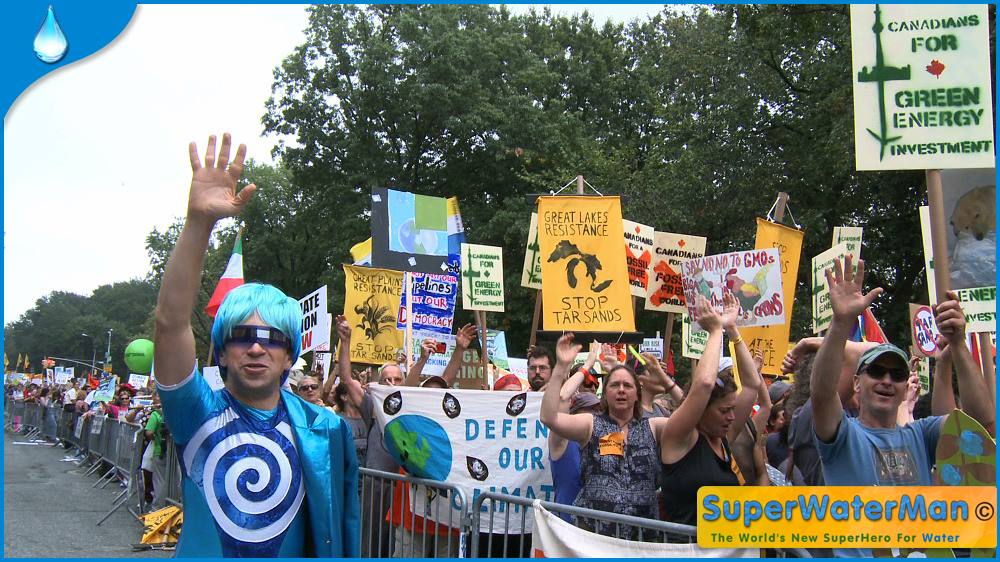 Born to break through and deliver the message of water to humanity.
---
Fighting for the Elixir of Life
Introduction
Why is water so important?
The reality is that the value of water is often overlooked and taken for granted.  This attitude of indifference allows for the abuse, neglect and squandering of our most valued and essential elemental resource.
Why we need SuperWaterMan, the worlds newest superhero for water
The world is noisy.  SuperWaterMan use the superhero genre to break through the noise and complacency surrounding the water issue.
If its melting icecaps, pollution, beach erosion, fracking, radioactive fallout, privatization, water waste, water bottling, Flint Michigan, water infrastructure, fish kills and toxic algae blooms — we all know the H2O issue is daunting. That is why we need SuperWaterMan to lend his vortex powers to the cause of H2O.
Because the Superhero genre is a powerful communication tool.

Because our current Superheroes do not fight for water.

Because we need to wake people up and SuperWaterMan does that.
Mission
To raise our level of awareness about the values and benefits of water.
Request
Invite SuperWaterMan to discuss how we relate with water — catch the wave!
To discuss the wide array of values and benefits that water possesses.
To discuss local and regional water issues that need a Superhero in the fight.
To discuss the cast of characters that assist and fight SuperWaterMan.
To stress the value of the Superhero archetype / genre to break through the noise and deliver the message of water's value to the masses.
To discuss SuperWaterMan's Vortex Superpowers.
To highlight why a new Superhero is important.
To discuss the the process of creating a new Superhero.
BIO
SuperWaterMan, Origin Story
One day while meditating at Lake Minnewaska, located in New York State's Hudson Valley, Leslie Gabriel was visited by a vortex shaped premonition of Mother Earth.
She reached out to Leslie and commanded, "I need your help, the world's water makes up most of our planet and nobody is aware of what will happen if we don't reverse the harm we are doing. As Mother Earth, I have chosen you as my voice here on the planet to tell people that our planet's future's
depends on protecting our most precious resource."
It was then that Leslie Gabriel found his calling and his not-so-mild mannered alter ego SuperWaterMan was born.
SuperWaterMan's Powers
SuperWaterman's Vortex Powers channeled through SuperWaterMan, as taught by Mother Earth.  Vortex Power, is a whirling mass of water, vapor, steam, ice, snow or H2O energy that emanates from SuperWaterMan's chakras (energy meridians).
SuperWaterMan launches Vortexes of H2O energy to defeat his foes.
SuperWaterMan gets around the planet through the Vortex Travel Portal.
The Vortex Mind Flux is SuperWaterMan's hidden power that helps change people's mental states to further understand water.
BIO
Leslie Gabriel
The quality of our life, and life itself, depends upon our relationship with water. As an H2O advocate, activist, enthusiast — Leslie Gabriel is a self-proclaimed ambassador for water. He's overcome a life long chronic skin disorder by doing nothing more than simply using pure spring water to detox his body and bring balance and harmony to my life. Leslie is a passionate believer in the power of water.
The majority of my time is devoted to The Water Sustainability Movement — one of the most important movements of our time. Proud father of his "Not So Little People": Kyla Elianna Gabriel (21 years) and Jeremiah Noah Gabriel (17 years).
Beyond water, Leslie is an avid distance runner, hiker, skier, kayaker, camper, traveler and dancer.
Accomplishments
Successful radio producer of 'And So It Flows' the world's only show for H2O.
Avid water blogger and founder of one of the net's first water blogs — WaterManBlog.com.
Video producer, director of the successful series of new media H2O relaxation videos called Zen Water Flux.
Public speaker, passionate about the pressing need for water sustainability and the need to transform our relationship with water to a state of love and respect.
Frequently Asked Questions
What Are SuperWaterMan's SuperPowers?
Vortex Power, a swirling mass of water, vapor, steam, ice, snow or H2O energy emanating from SuperWaterMan's chakras (energy meridians) to defeat his foes.
The Vortex Travel Portal is how SuperWaterMan gets around.
The Vortex Mind Flux channels SuperWaterMan's hidden water powers to change people's mental states about water.
Does SuperWaterMan Have Any Weaknesses?
SuperWaterMan's Bio-System is intolerant of toxins of any kind.
Where Is SuperWaterMan From?
Lake Minnewaska, NY
Who Are SuperWaterMan's Parents?
Mother Earth (Single Parent Household)
What Does SuperWaterMan Fight For?
The Elixir of Life — H2O
Where Does SuperWaterMan Work?
SuperWaterMan works full time as the world's new superhero for water. His alter ego, Leslie Gabriel works as a middle-manager at Ominous Corporation (Ominous has tentacles in fracking, chlorine manufacturing, water bottling, dolphin culling, deep-sea oil exploration and dumping toxic waste into the Gowanus Canal and also manufactures lead piping).
Who Are SuperWaterMan's Friends?
Mother Earth and the Lake Minnewska Water Nymph
What Is SuperWaterMan's Mission?
To raise our level of awareness about the values and benefits of water.
Contact
Hudson Valley Public Relations
hello@hudsonvalleypublicrelations.com
845.202.7087
SuperWaterMan
Facebook      Twitter
---
Learn more about SuperWaterMan
News Articles / Press
Tulus, S. (December 1, 2015). The Bigger Picture for December 1, 2015 — The Adventures of Super Waterman. Finger Lakes Times.
http://www.fltimes.com/opinion/the-bigger-picture-for-dec-the-adventures-of-super-waterman/article_7a5be764-9840-11e5-b7f9-8f8c1b0e9173.html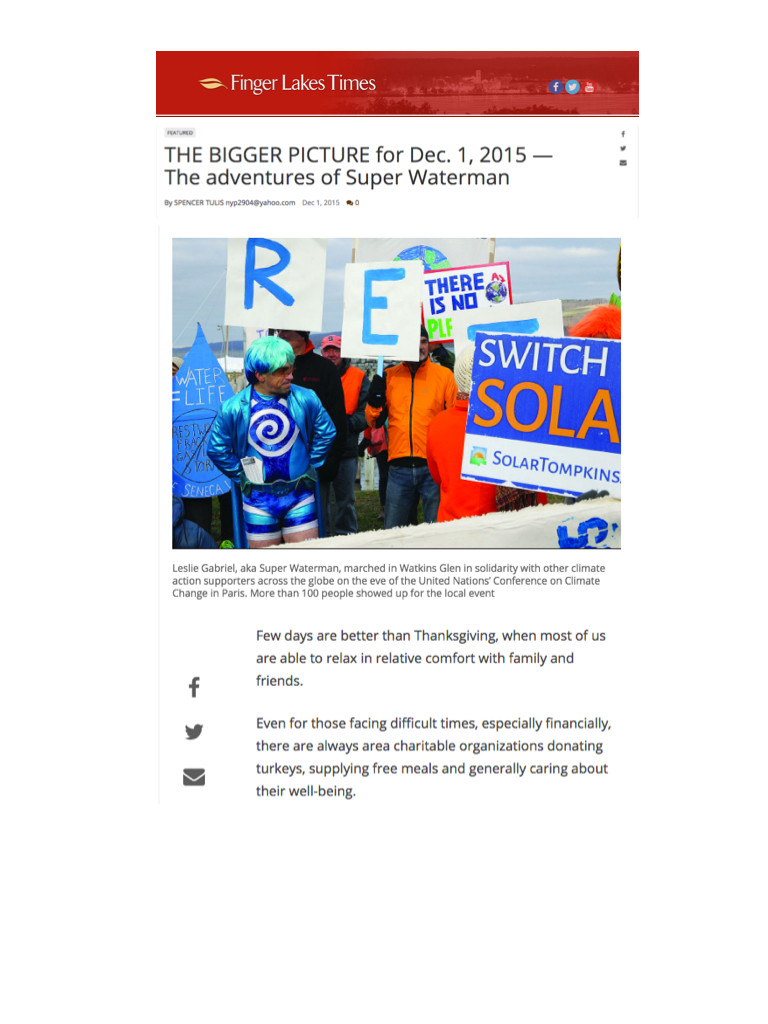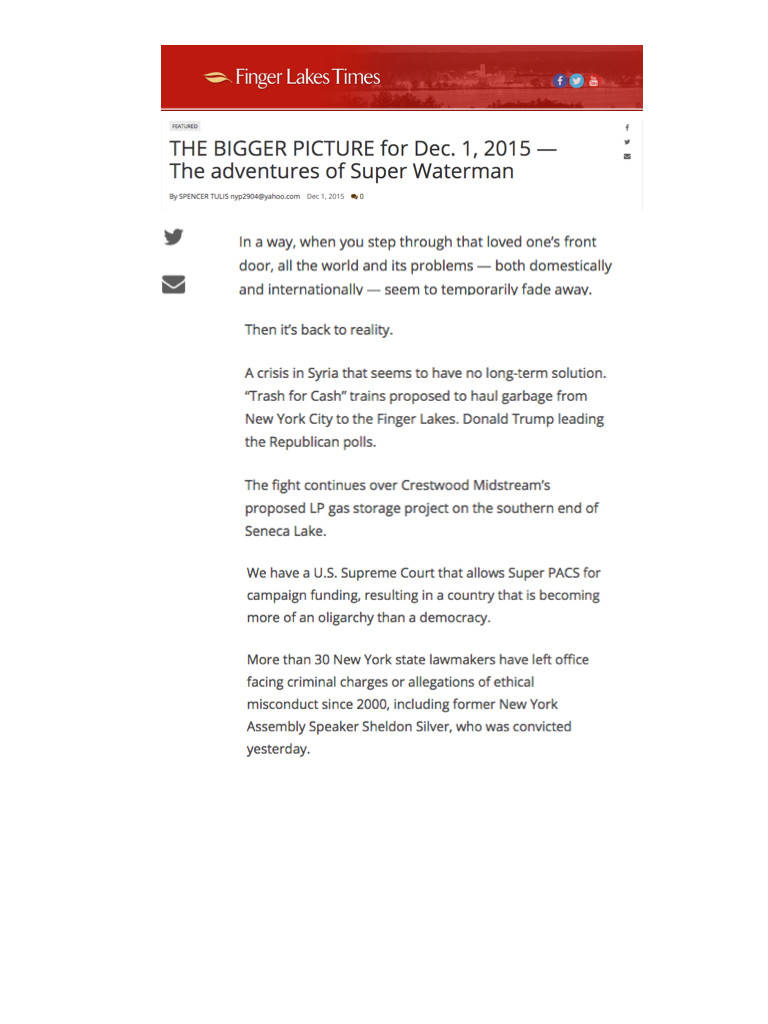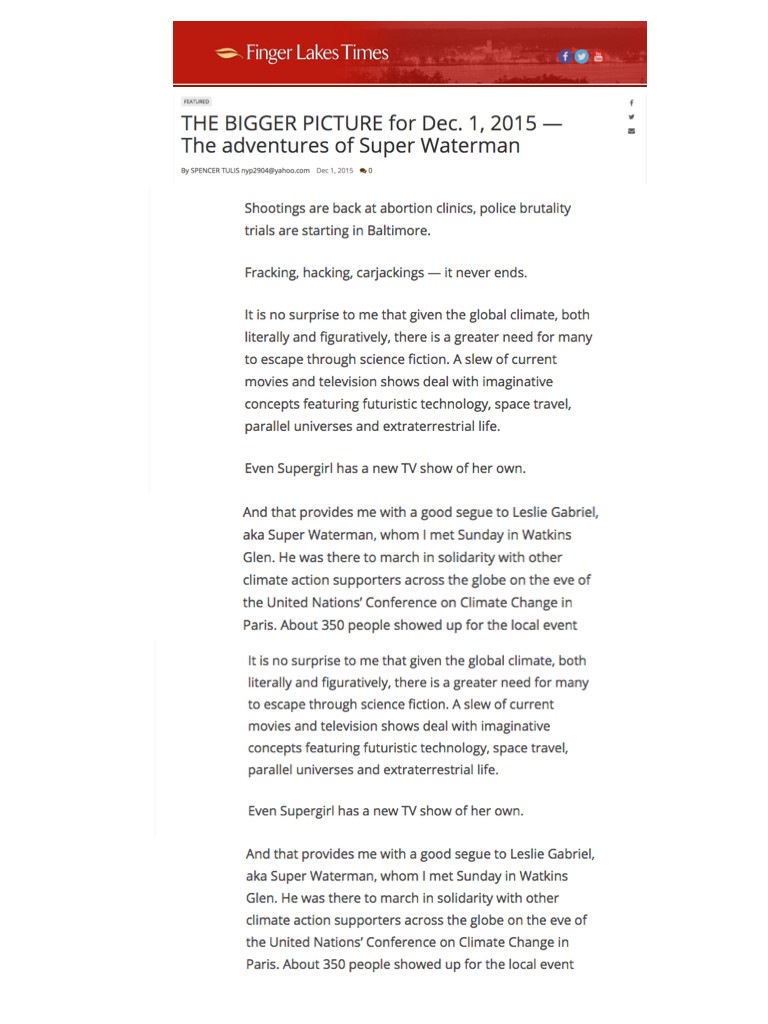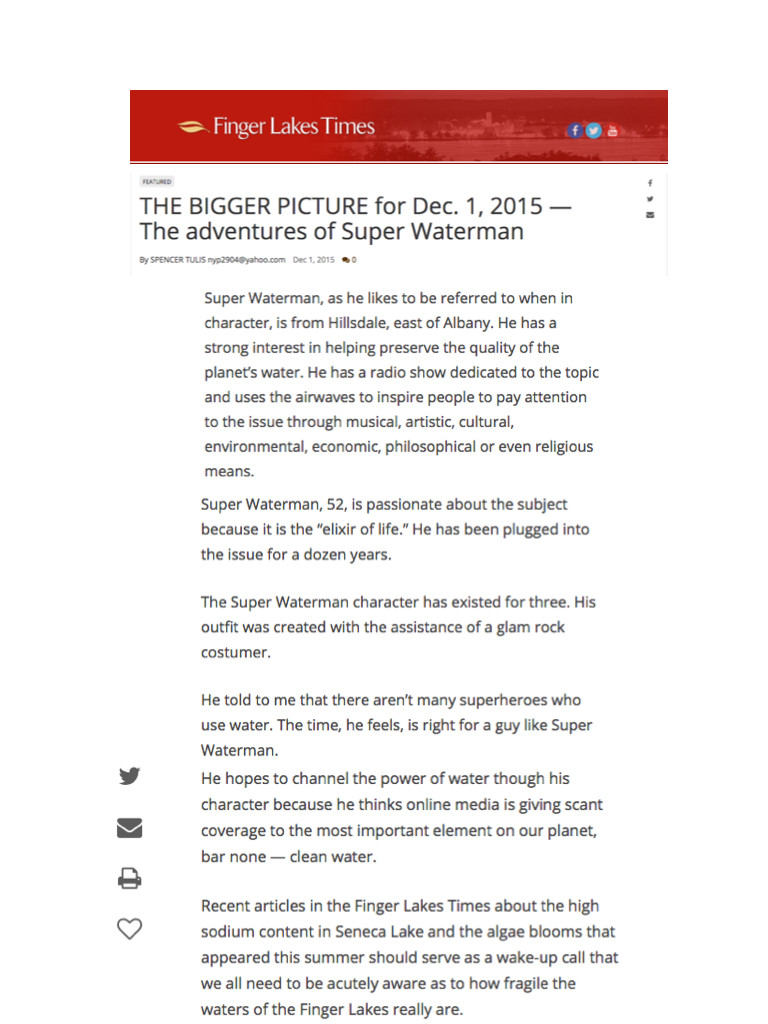 Gabriel, L. (November 4, 2014). H2O Ambassador Using Alter Ego to Promote the Power of Water. PRLog.
https://www.prlog.org/12391014-waters-new-superhero-superwaterman.html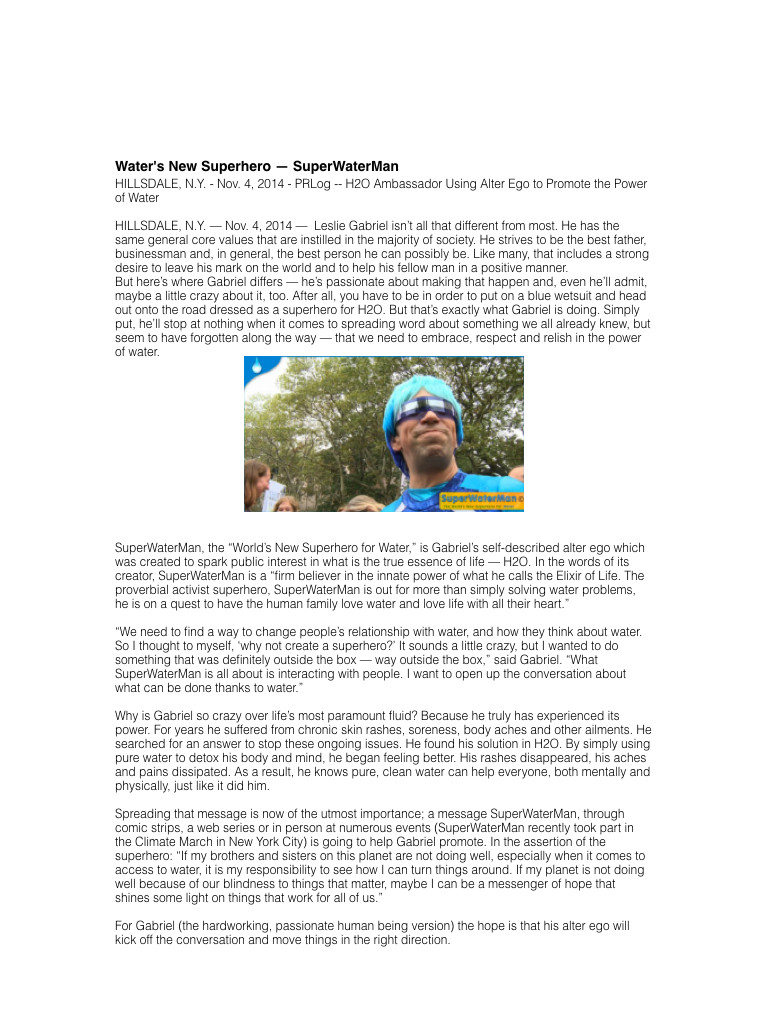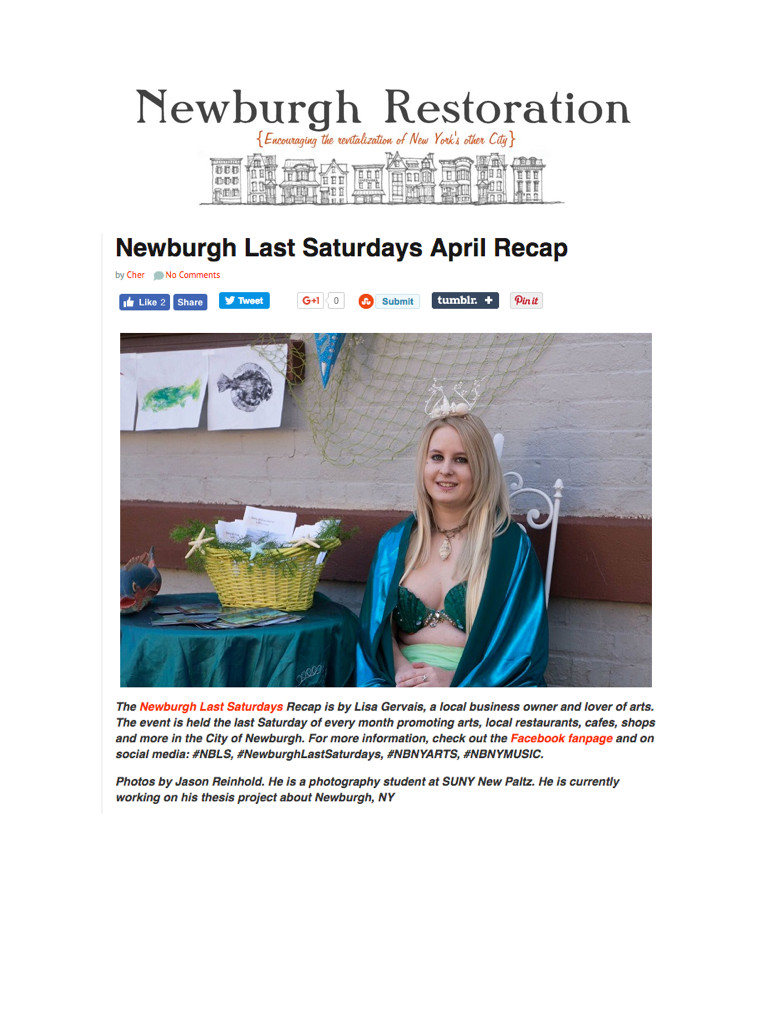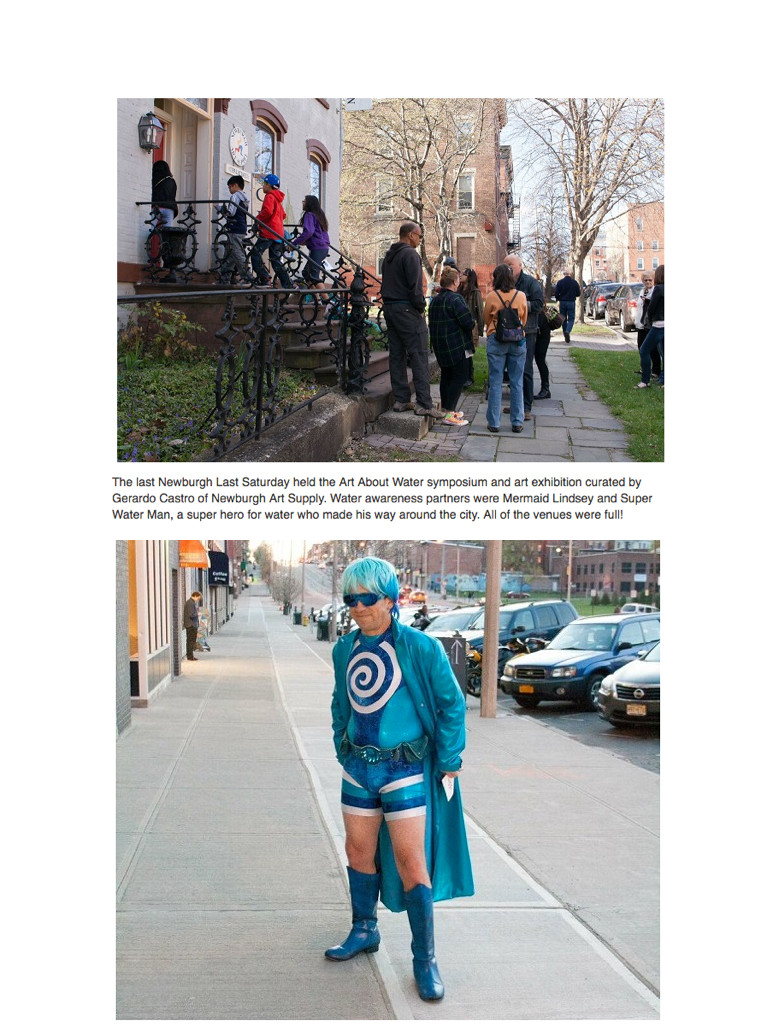 https://i.ytimg.com/vi/ItWMwoHtOxA/hqdefault.jpg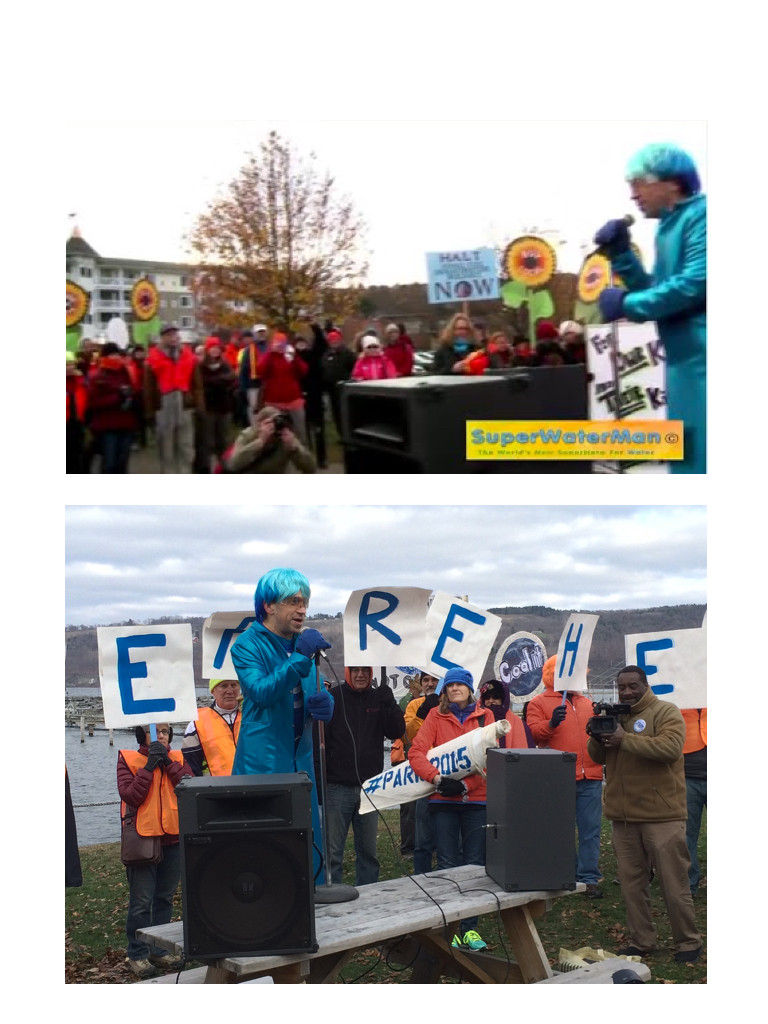 http://farm6.static.flickr.com/5789/22774777994_5598dabfac_b.jpg