Social Media Tactician: Donald Trump
Social Media Tactician: Donald Trump
By Chris Largent, Marist College Intern
Politics and Social Media
Smear tactics are nothing new to politicians, it's been going on for  centuries. Back in the early 1800's, party politics had so distanced John Adams and Thomas Jefferson that, for the first and last time in U.S. history, a president found himself running against his vice president. Jefferson's camp accused President Adams of having a "hideous hermaphroditical character, which has neither the force and firmness of a man, nor the gentleness and sensibility of a woman." In return, Adams' men called Vice President Jefferson "a mean-spirited, low-lived fellow, the son of a half-breed Indian squaw, sired by a Virginia mulatto father."
Since Barack Obama's election to the presidency in 2008, there has been a surge in the involvement of social media in politics. For politicians, social media has become a quick and easy way to reach target publics, just like their business counterparts. Obama and his administration have been all over this trend. Recently, when flying up to Alaska to promote his environmental policies, he shared a picture on Instagram of the beautiful Alaska countryside (Carr, 2015). This kind of connectivity shows that politicians are people just like me and you and allows trust to flow more easily.
With the 2016 presidential election fast approaching, candidates not only need to win in debates, but also make ground on the social media front. That battle is surely raging. There are ample examples of social media tactics from all of the potential runners representing both sides of the political spectrum. But there is one that towers over all the rest.
Trump Tactics
Mr. Trump's social media pages embody who he is as a presidential candidate. Posting about every hour or so on Twitter, Trump constantly updates his followers, last count of 4.79 million and growing. He tweets about events he has attended, often tweeting "thanks" to states for their support in placing him top in polls. One of Trumps best tactics is that he responds to a lot of the tweets that slam him as well as posts that praise him. Trump often tweets directly to his fans and his critics, tactfully quoting them in his own tweets.
Trump is also very active on Facebook, posting about two or three times a day. Trump's content reflects his personality — A master of the smear campaign, many of his posts bash the other candidates such as his remarks about Jeb Bush's "low energy" and his tweets about Ben Carson. On November 6th Trump posted on Facebook: "The Carson story is either a total fabrication or, if true, even worse-trying to hit mother over the head with a hammer or stabbing friend!" Trump aggressively attacks the entire field of presidential hopefuls, " Marco Rubio is a total lightweight who I wouldn't hire to run one of my smaller companies – h highly overrated politician!" Trump is quick to respond, he tactfully makes everything personal, this let's his competitiors and the press know he is listening and that he is serious about winning the election. Trumps social media tactics are gaining a lot of steam with his supporters.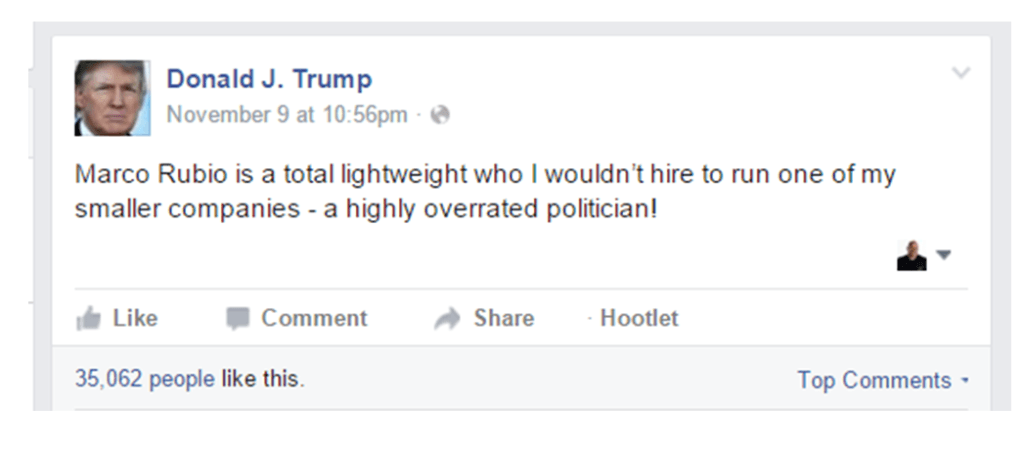 Although Trump does not reply to as many comments on his Facebook page as he does his Twitter account, he is very active on both social media channels. Trump tactfully posts many articles about his standings in the polls and also quotes publications such as People Magazine about how he is winning in key states.   He also tactfully shares clips from videos from the debates, and a clever office video where Trump thanked Joe Biden for not running.
The Trump Brand
Smart, savvy publicity and social media tactics he helped to put Trump at the top of the polls  Trump has dominated the news networks coverage of the presidential race, often eclipsing coverage of competition on both sides of the aisle. Now a front-runner Trump has refined his message, "Make America Great Again!" Trump's slogan resonates with many American's who feel that we have lost our standing as a super power and don't get the respect we deserve. The message also succeeds in making Trump seem much more presidential.  People know exactly what they are getting with Trump. He is a straightforward, pull no punches kind of guy and he has made that abundantly clear with his speeches and debates which he has so tactfully shared over his social media channels.
Trump's content is bombastic and brash,  many people find him offensive. Love him or hate him, his publicity and social media tactics are solid. Trump is riding the "no such thing as bad publicity" train and it's working.
To learn more about social media tactics visit our website: hudsonvalleypublicrelations.com or give us a call at 845.202.7087
Sources:
Carr, N. (Sept. 2, 2015). How Social Media Is Ruining Politics. Politico. Retrieved from: http://www.politico.com/magazine/story/2015/09/2016-election-social-media-ruining-politics-213104
Swint, K. (Aug. 22, 2008) Founding Fathers' dirty campaign. Retrieved on November 11, 2015 from  http://www.cnn.com/2008/LIVING/wayoflife/08/22/mf.campaign.slurs.slogans/index.html?_s=PM:LIVING