White Paper, US Online Advertising Market
US Online Advertising Market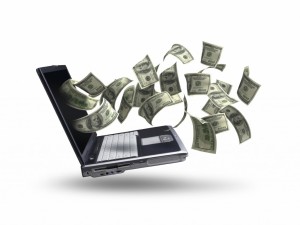 Over the past twenty years, the audiences for most traditional media programming has steadily declined, yet at the same time as the number of people getting news and programming online has surged (Pew Research, 2008).
Project within the next five years (Forrester Research, 2012), advertisers will spend almost $77 billion online, comprising 35% of overall ad spending.
2011

$(000)

2012

$(000)

2013

$(000)

2014

$(000)

2015

$(000)

2016

$(000)

Percent Increase

Social Media

1,590

2,119

2,760

3,453

4,217

4,995

314

eMail

1,510

1,694

1,875

2,066

2,262

2,468

163

Mobile

1,652

2,777

4,238

5,697

7,057

8,237

499

Display

10,949

12,860

16,085

19,763

23,919

27,600

252

Search

18,756

21,553

24,613

27,515

30,433

33,319

178

TOTAL

34457

41003

49571

58514

67888

76619

222

(%)

19

21

25

29

32

35
         Revenue of each market segment in 2012
                                             $(000)               (%)
Social                                   2,119                   5
eMail                                    1,694                   4
Mobile                                 2,777                   7
Display                                 12,860               31
Search                                 21,553               53
            TOTAL                     41003              100
Total Ad Spending for 2011 is estimated at $238.6 billion (Burell Associates, 2011), of that small businesses spent about $34 billion.  Small to Mid-Sized businesses social media budgets represent is about a third of the total on-line spending. 
On-line Ad Spending Forecast (Burell Associates, 2011)
                          2010                    2011
                       (Billion)             (Billion)
National         $31.8                    $35.7
    Local           $13.7                    $16.1
                         $45.5                   $55.5
Since 2010 Small Business owners have increased online efforts from %5 to nearly double 9% for integrated location-based social channels, (Foursquare, Facebook, Yelp and Google+).
On-line survey Zoomerang & GrowBiz Media, 2012.
These platforms are deemed important for sales generation (25% today up from 2% in 2010).
Small business owners are increasingly using LinkedIn for networking with other businesses and gaining awareness from other businesses and consumers in the local community.
Only 4% of small businesses use daily deal sites (i.e. LivingSocial, Groupon).
Among small business owners that use wireless mobile devices, education and non-profit fields are accessing social media at the highest rates, 50% and 52% respectively, compared to national average of 43%.
Three in four (75%) small businesses surveyed have a website, about the same as last year, with nearly a third (31%) having a mobile website.
Although small businesses are become savvy marketers, about 46 percent surveyed had no website at all. And the majority of businesses with websites are very basic. Less than a third (30 percent) engage in e-commerce.
The majority of small companies will spend most of their marketing on traditional websites and e-mail, (Zoomerang & GrowBiz Media, 2012).
Over a quarter of small businesses plan to spend at least 30 percent of their online marketing budgets on their websites (includes SEO).
E-mail ranked second, 18 percent surveyed spend at least 30 percent on eMarketing.
Just 10 percent of respondents plan to spend at least 30 percent on social media.
Within online advertising, however, lots of changes are ahead (Forrester 2012):
Mobile ads will overtake social ads and email marketing already this year.
Projected $8.2 billion in revenues by 2016 as advertisers will want to reach people while they're on mobile phones and tablets, not just searching at their desk.
Search ads' market share will fall.
Search advertising will remain the largest segment, growing to $33 billion, however its share of online ads will fall from today's 55% to 44%. .
Display ads will experience resurgence online.
Wildly popular visual platforms such as Pinterest are ideal for display advertising.  Web sites are very attractive to all marketers, large and small reaching nearly $28 billion and 37% market share of online ads by 2016.
Video will begin to make money on all platforms, (YouTube, Facebook, Twitter, etc.)
While traditional television advertising will continue to be the primary medium, advertisers will spend more online in the next ten years.  Project Facebook, YouTube and Yahoo who are already creating original programming will become major broadcast online networks in the next five years either through mergers or acquisitions.   
For many years, marketing professionals applied analysis techniques designed to help them understand the demographic and psychographic profiles of their customers and prospects. These traditional segmentations are usually derived from complex clustering techniques than map rich primary research data into common groups or profiles.
The most difficult part of a traditional segmentation tends to be the "art" of naming and describing behavioral segments. Web behavioral segmentations tend to use web behavioral data points (pages viewed, time on site, visits and, geo-demographic variables).
Break it down to three simple steps.
How much, how often, where, when and how does your base consume your product or service?
Then identify what type of navigational devices (search, directory, link-drives, images, etc.) visitors use.
Group (segment) what type of behaviors trend.
Geographic segmentation
Demographic Segmentation
Psychographic Segmentation
"Positive" market segmentation
Behavioral Segmentation
Occasion Segmentation
Benefit Segmentation
There two obstacles to applying this methodology:
Identify the wrong variables, and you get no significant analytic trends.
For now, web analytic tools simply don't provide methods to build data-driven segmentations.
Product Segments within integrated Demand Side Platforms
Ad Text (Content) Optimization
Ad Scheduling, Serving and Positioning Optimization
Bid and Budget Optimization
Campaign and Ad Group Optimization (Retargeting)
Conversion Optimization
Impression Advertising (CPM) Optimization
Keyword Optimization
Landing Page Optimization
Language and Location Targeting Optimization
Pay Per Click (PPC) and Click Through Rate (CTR) Optimization
Placement Optimization
 
Revenue of each product segment in 2012
                                                                          $(Billion)
Ad Text (Content) Optimization                      3.5
Keyword Optimization                                      6.5      
Landing Page Optimization                             5.5
(PPC) and (CTR) Optimization                        3.0
     Total SME Online Ad Spend                     $18.5
Market Segment Groupings
Combine visitor profiling based on the depth, frequency, mindshare and time-spent by site area and the mixture of session-styles visitors employ; a rich set of profiles will emerge.
Bargain Hunters
Holiday Shoppers
Luxury Lovers
Browsers
Loyal Communicators (buy and are vocal)
The field is wide open with tremendous opportunity for the next decade and beyond.  In my opinion there is no clear leader in the field, in fact the technology may come from an entirely different sector of industry.
As technology advances segmenting technologies that could never assess or take too long to compute will be processed in the cloud at the speed of light.  Optimization algorithms such as simulated annealing, beam search and random optimization are now applied to most analytic software programs.
There will no doubt be some major advances in terms of cloud computing and smarter mobile computing devices, and IT automation.   The rise of cloud based computing is certain to bring speed and smarter application, there is however the problem of how to manage the data securely.
Key technologies influencing the market today:
Unified Communications
HTML5
Intelligent Layer 2 Switching
Unified Storage
Business Process Management
And Data Analytics.
Large and small businesses alike typically either don't understand or don't have a true grasp of how important their online marketing efforts are in bringing in new business.  Management typically falls on the agency of record, the larger the overall ad spend the better the online strategy and monitoring of the efforts.
Online SME spending varies based on the sophistication of the marketer.  The typically monthly ad spend is allocated to optimization and content creation (ranging from $500 to $2500 per month).
Retargeting, bid/budget optimization and behavioral segmenting is serious marketing.  SME budgets who apply these tactics typically allocate their spending along these lines:
SME Online Ad Spend                   (%)
Social Media                                       10
eMail Marketing                                    5
Mobile Marketing                                10
Display                                               35
Search                                               40
Mobile advertising industries are set for dramatic changes. Emerging models which will drive the SME are semantic, location based, social networking and video advertising.  Restaurants, service based retailers and entertainment based businesses will leverage these online platforms.
The distribution is all over the place with no clear segment that is used by SME advertisers.  Predict that location based video advertising will dominate small business products and services.
Any online strategy must integrate all market efforts with traditional advertising and utilize several online options.  
Sources:
http://pewresearch.org/pubs/928/key-news-audiences-now-blend-online-and-traditional-sources
http://www.forbes.com/sites/roberthof/2011/08/26/online-ad-spend-to-overtake-tv/
http://www.inc.com/abigail-tracy/Social-Media-Forecast-Revenues-to-Hit-16.9-Billion-in-2012.html
http://www.businesswire.com/news/home/20110526005116/en/U.S.-Small-Businesses-Projected-Spend-36B-Marketing
http://www.att.com/gen/press-room?pid=22635&cdvn=news&newsarticleid=34135
http://www.inc.com/news/articles/2010/11/small-business-spend-most-on-websites-not-social-media.html
http://www.jeffbullas.com/2012/04/23/48-significant-social-media-facts-figures-and-statistics-plus-7-infographics/
http://www.clickz.asia/165/what-demand-side-platforms-can-mean-for-a-media-plan
http://www.mediabiznet.com.au/news/home.do?newsId=6136
http://www.borrellassociates.com/component/content/article/45-general-reports/195-borrell-associates-2011-ad-forecast-memo
http://www.jeffbullas.com/2012/04/23/48-significant-social-media-facts-figures-and-statistics-plus-7-infographics/
http://www.topseos.com/rankings-of-best-social-media-marketing-companies-and-services
http://email-marketing-service-review.toptenreviews.com/
http://top10mobilemarketing.com/
http://www.topinteractiveagencies.com/
http://www.seoconsultants.com/search-engines/
http://semphonic.blogs.com/semangel/2008/06/web-analytics-.html
http://www.ehow.com/about_6660008_product-segmentation-strategy.html
http://www.ctoedge.com/content/top-10-emerging-technology-trends-2011
http://www.pamil-visions.net/mobile-marketing-future/236514/
http://www.marketresearch.com/Business-Insights-v893/Global-Online-Mobile-Advertising-Outlook-6008017/