Simple, Smart Sizing Guide for Social
The Ultimate Guide For Sizing Images
Special to Hudson Valley Public Relations, by Frank Morello Intern Marist College
Looking professional on social media is a must. First impressions are extremely important, poorly formatted and or blurred images belittle your message, making your post seem amateur and instantly forgettable. We are visual creatures, images are the first thing that draws us in.
Get it right, follow these simple guidelines to format your images on the major social media platforms:
Facebook

The first thing people will see when they hit your Facebook page is your cover and profile photo.
Cover Photos are sized at 851 x 315 pixels.
Profiles Pictures are sized at 180 x 180 pixels.
Anything less than these sizes will be stretched to fit, making the photo look grainy, distorted and poor quality. It's always smart to find a photo that is larger than these sizes, as down-scaling always looks better than up-scaling.
Shared Images will show up on your timeline at 1200 x 900 pixels.
Shared Links are slightly smaller, at 1200 x 627 pixels.
When sharing a link Facebook, the linking image will often default to show the first available image on the page. Make sure you choose the photo that best represents the link you're sharing, otherwise it will look unprofessional. Same applies to sharing videos.
Instagram
Just like most social media platforms, the first thing people will see on your Instagram page is your profile image. Instagram sizes its profile images at 110 x 110 pixels, which is pretty small. Make sure that your image is larger than this size, or it will become stretched. Images on Instagram are sized at 640 x 640 pixels and are then down-scaled to 612 x 612 pixels.
Using images that are larger than 640 x 640 is very important, because down-scaling always looks better than up-scaling. Formatting your picture properly for the square format is also very important so you don't lose any information or important parts of the photo.
Twitter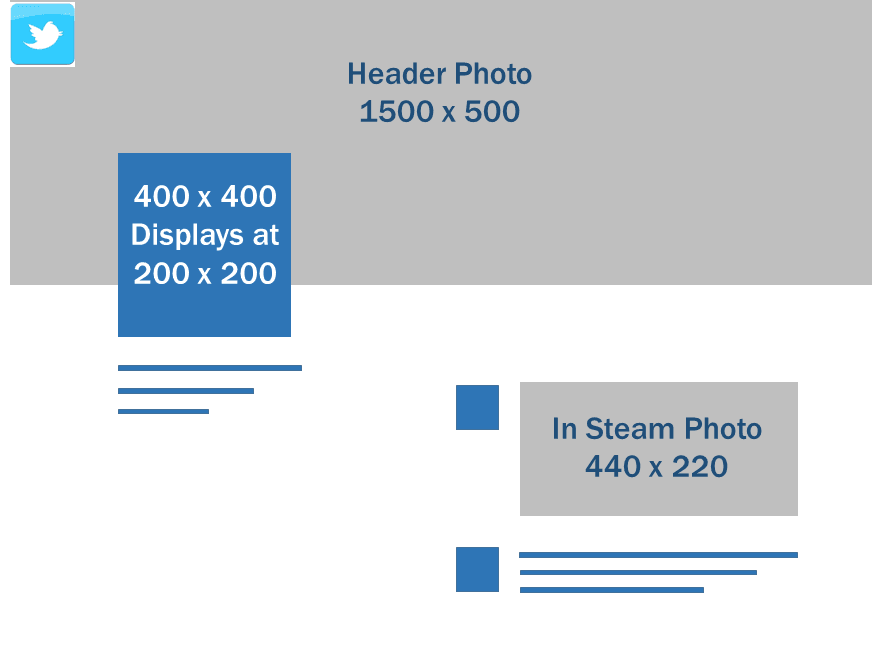 Twitter has a few more things that might catch a visitor's eye when they first visit the page than most of the other major social media platforms.
The profile picture on Twitter is a 400 x 400 pixel image, displayed at 200 x 200 pixels. The header photo is 1500 x 500 pixels, and has a maximum file size of 10 MB.
Twitter also allows for a background photo, which when used correctly can really make your page pop. The background photo has a size of 1280 x 1024 pixels, which is very large. Make sure your background image is at that size or larger. Otherwise the image will  stretch. Pick a background image that isn't too flashy or distracting, remember it's the the main focus of the page, your background imagery should subtly support the primary message of your page. In-stream photos are sized at 440 x 220 pixels.
For more guides to social media tactics, visit hudsonvalleypublicrelations.com or follow us on Facebook and Twitter.
Source: http://www.adweek.com/socialtimes/social-media-image-size-guide-2015/504309