Re-Branding a Small Firm with a Big Vision
Hudson Valley Public Relations — a Small Firm with Big Vision.
We asked Florville Catalyst, a Westchester-based branding and design firm to help give Hudson Valley Public Relations the competitive image it had been lacking. The challenge was to create an effective presence among our largest competitors.
The process was very thorough. Florville began by understanding us, our competition and our audience. They listened, asked questions that stimulated possibilities. A competitive analysis assessed public relations firms big and small — many were dull and unimaginative. Concepts emerged. Several options were provided. The logos created were clean and simple, yet engaging, dynamic, effectively communicating our brand values as a progressive public relations firm that specializes in digital marketing. Honestly I loved all of them.
The winning design cleverly made use of carets in the logotype to instantly convey convergence, connectivity and all things digital as well. Carets are widely used in software programming to mark the beginning and end of a string of code. They also convey connectivity and convergence of ideas. This is what we do. Perfect.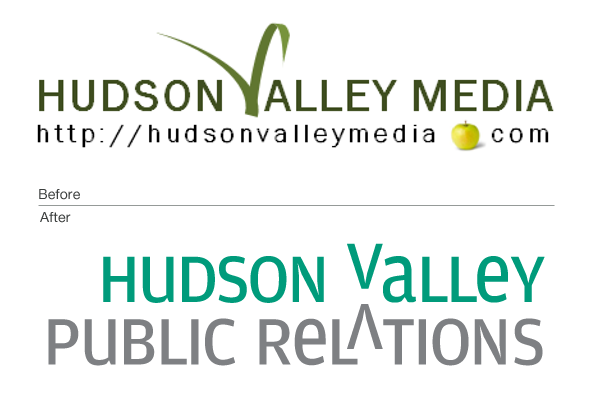 The result is a brand identity that has significantly improved our image. As our branding program evolves, once perceived as a small shop, we now have a competitive presence among larger and better known firms.
Florville Catalyst delivered. Their team of award winning brand strategists and designers are truly thought-leaders in building brands. They worked hard in taking us to the next level, maximizing our budget, creating real value while exceeding our expectations. Very pleased with our new identity. We strongly recommend Florville and look forward to working with them on new projects in the future. View their website: www.florville.com
Hudson Valley Public Relations connects people, ideas and organizations by nurturing and building relationships. www.hudsonvalleypublicrelations.com