How to Respond to a Crisis: What's the Plan.
CRISIS COMMUNICATIONS
The best time to plan for a crisis is before there ever is one.   Big or small, every organization should have a crisis communications plan that considers  . . .
What are the potentially most damaging outcomes that could damage the company's reputation?  You'll never think of everything, but simply putting together a crisis plan will help your team to understand what to anticipate in the event of a crisis.
Who's the team leader?  When a crisis occurs, you won't have time to form a plan.  Start thinking about defining the roles and responsibilities of all members of the crisis team now.
What's the strategy?  Transparency and immediacy are critical to successfully responding to any crisis. No response is a strategy; consider that it is better to control any event before the crisis completely gets out of control.
Who are the spokespeople best suited to handle any potential threat to the organization?  The crisis team must be able to effective communicate with the internal stakeholders, your customers, the public and the press.  Prepare by training, when the crisis hits your team will be ready.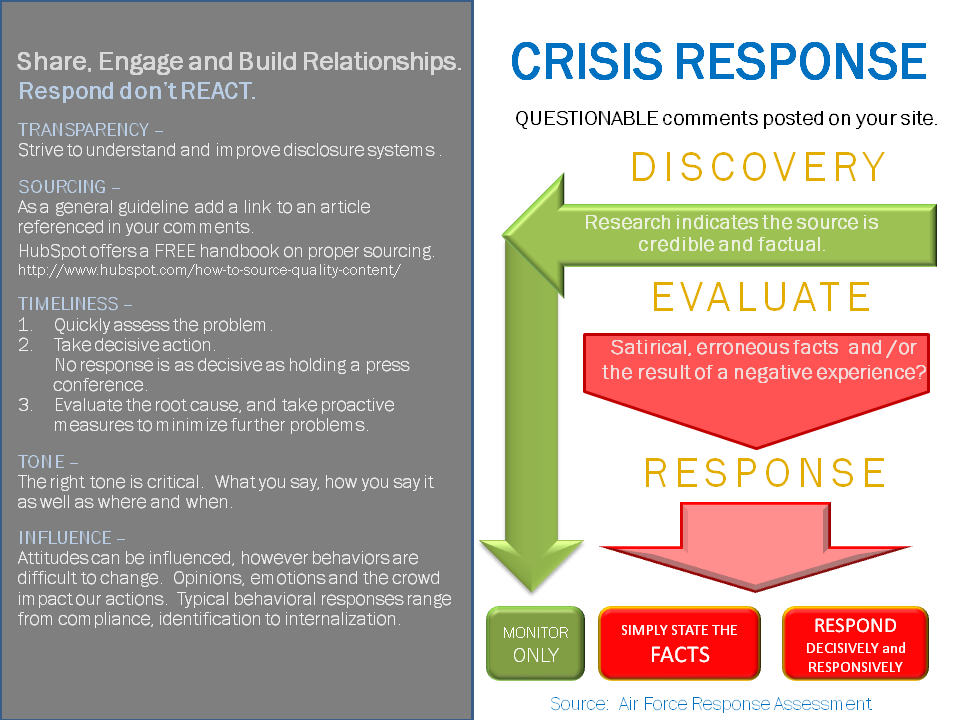 When a crisis hits, the first thing to do is determine what the facts are.  Time is a factor.  Often the facts don't come as fast as the necessity to respond.  There are also legal and ethical considerations that must weighed carefully to assess what information is released to the public.
Transparency creates trust and credibility.  Simply said, honesty is the best policy.
Start today.  A strong brand can withstand any firestorm better than a brand with track history questionable policies and actions.
Every day act honorably and transparently by . . .
Communicating  your values ;
Showing a level of responsiveness to your local community.
Source: http://www.inc.com/guides/how-to-communicate-in-a-crisis.html